Contact Cornucopia Farm
---
Be the first to find out about our Special Events for 2023 and get early access to the tickets!

---
September General Admission Hours:
Friday 10-8
Saturday 10-7
Sunday 1-7
October General Admission Hours:
Wed/Thur 5-8
Friday 10-8
Saturday 10-7
Sunday 1-7
Address
Cornucopia Farm LLC
5444 N Rutherford Hollow Road
Scottsburg, IN 47170
Email
This email address is being protected from spambots. You need JavaScript enabled to view it.
Phone
---
---
---
Meet the Farmers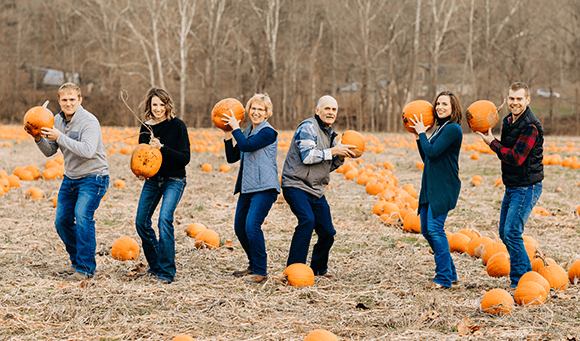 The Baird Family Pictured (left to Right) - Michael, Valerie, Linda, Kevin, Kayla and Jared
Cornucopia Farm LLC is owned and operated by the Kevin and Linda Baird family. Family fun is at the heart of what we do, and so from our family to yours Welcome to the Farm! We love being able to offer a working-farm experience during the fall season.
Kevin and Linda are celebrating 36 years of marriage this year, while the farm will celebrate its 28th year! Both sons, Michael and Jared, are graduates of Purdue University and are involved in the planning and production of Cornucopia Farm along with their wives – Valerie and Kayla.
The Bairds are active with the Little York Christian Church and believe that God has truly blessed them to live on a farm, especially one that they get to share! Kevin and Linda serve as the 4-H club leaders of the Gibson Township Super Stars and are also involved in Washington County Farm Bureau, See What Ag Gives and other community activities.
---
Cornucopia Farm received the River Friendly Award in 2013 for their farm management practices that protect Indiana's rivers, lakes and streams.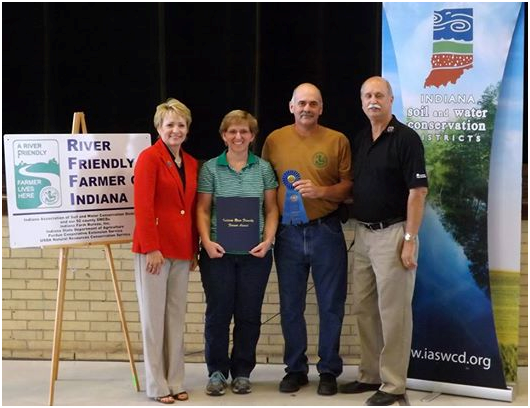 "We're honored to be a recipient of this award. Conservation and stewardship of the land are very important to us because we want to leave it in better share for those that follow behind us," said Linda.
Pictured above is Lt. Governor Sue Ellspermann, Linda Baird, Kevin Baird and Indiana Farm Bureau President Don Villwock.
---
The Bairds Honored as "2013 Indiana Farm Family of the Year."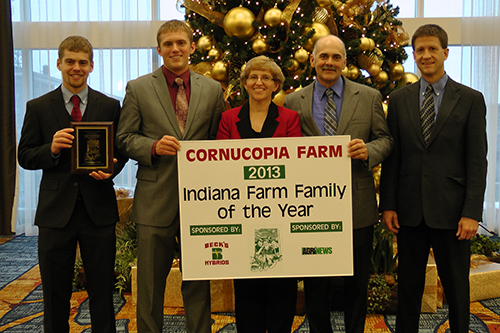 The Bairds were also Honored as the 2013 Indiana Farm Family of the Year, an award sponsored by Agri-News and Beck's Hybrids. Click here to view the story from Beck's Hybrids.
---