Cornucopia Farm Attractions


Online tickets are the best way to guarantee fun on the farm, as only a limited number of tickets will be available at the door.

Corn Maze
Grab a maze card to see if you can find all 12 signs in our six-acre maze and answer all the questions. Drop your filled-out maze cards off in the pumpkin shed for a chance to win fun prizes!
Soybean Maze
This three-acre maze might be shorter than the corn maze, but it's not short of challenges! Grab your maze card, find all the signs, and solve the puzzle for a chance to win fun prizes!
U-Pick Pumpkin Patch & Wagon Rides
Visitors may ride in the tractor-drawn wagon to the pumpkin patch to select their own pumpkins during normal business hours. Wagon rides are included in general admission or cost is $2.00 per person for the ride. Pumpkins are weighed and priced by the pound.
Petting Farm
Goats, calves, pigs, sheep, chickens, and more live here on the farm. Spend some time petting and feeding these friendly animals. Be a visitor during late afternoon, and you might even get to bottle feed a baby calf.
Super Straw House
Made from 3' x 8' bales of straw, kids enjoy climbing around, in, and over these super size bales.
Giant Hillside Slide
Coast down eighty feet of fun; our slide is enjoyed by all. Made of plastic from recycled milk jugs, the slide is built on a hill but is only about waist high.
Terrific Tunnel Slide
Slip down this enclosed slide and land on the bottom mattress.
Tumbling Tiles
Climb in, and roll down the track to see how fast you can get to the other end. Level up and make it a race!
Putt Around the Pumpkin
Mini golf - pumpkin style!
Duck Races
Have a splashing good time racing your duck down the water filled trough. Use some arm pumping action for competing for your best time or against your friends!
Cornucopia Carpet Ball
Spend time on this quick action game involving pool balls, a long box, and a friend.
Diamond Jump
All ages can "jump" at the chance to solve one or both of the pattern challenges.
Corn Hole
Try our Hoosier-style "farm horse shoes." We are a member of the American Corn Hole Association.
Campfires
Weather conditions permitting, Cornucopia Farm has campfire sites available for rental. Bring your own marshmallows! Please provide 24 hour advance notice.
Cow Train*
Climb aboard and tour the farm in our cow-shaped barrels - the tractor even moo's. Fun for all ages!
Corn Cannon*
Blast ears of corn down-range at your target. See how many you can make!
Picnic Area
Picnic tables are available on a first-come, first-serve basis.
* Requires Tokens
2021 Corn Maze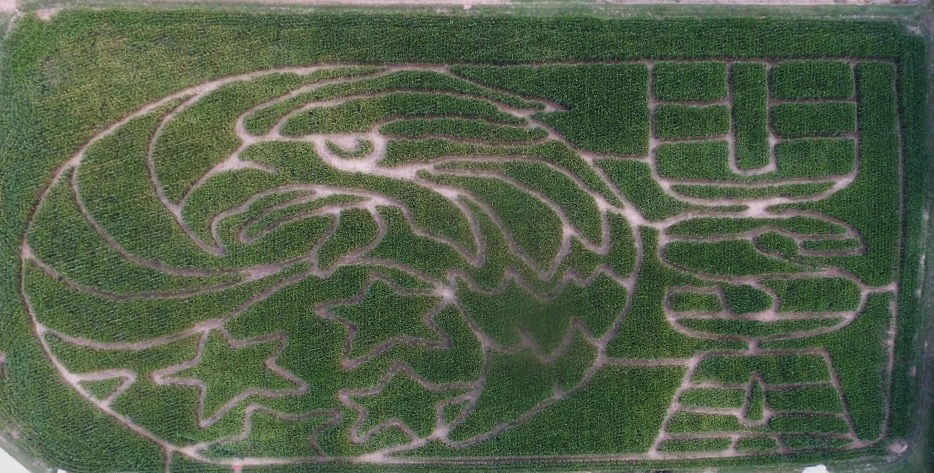 Past Corn Mazes
2021 Soybean Maze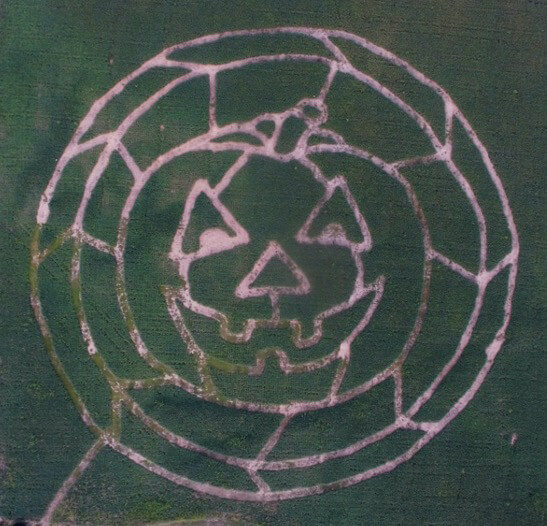 Past Soybean Mazes